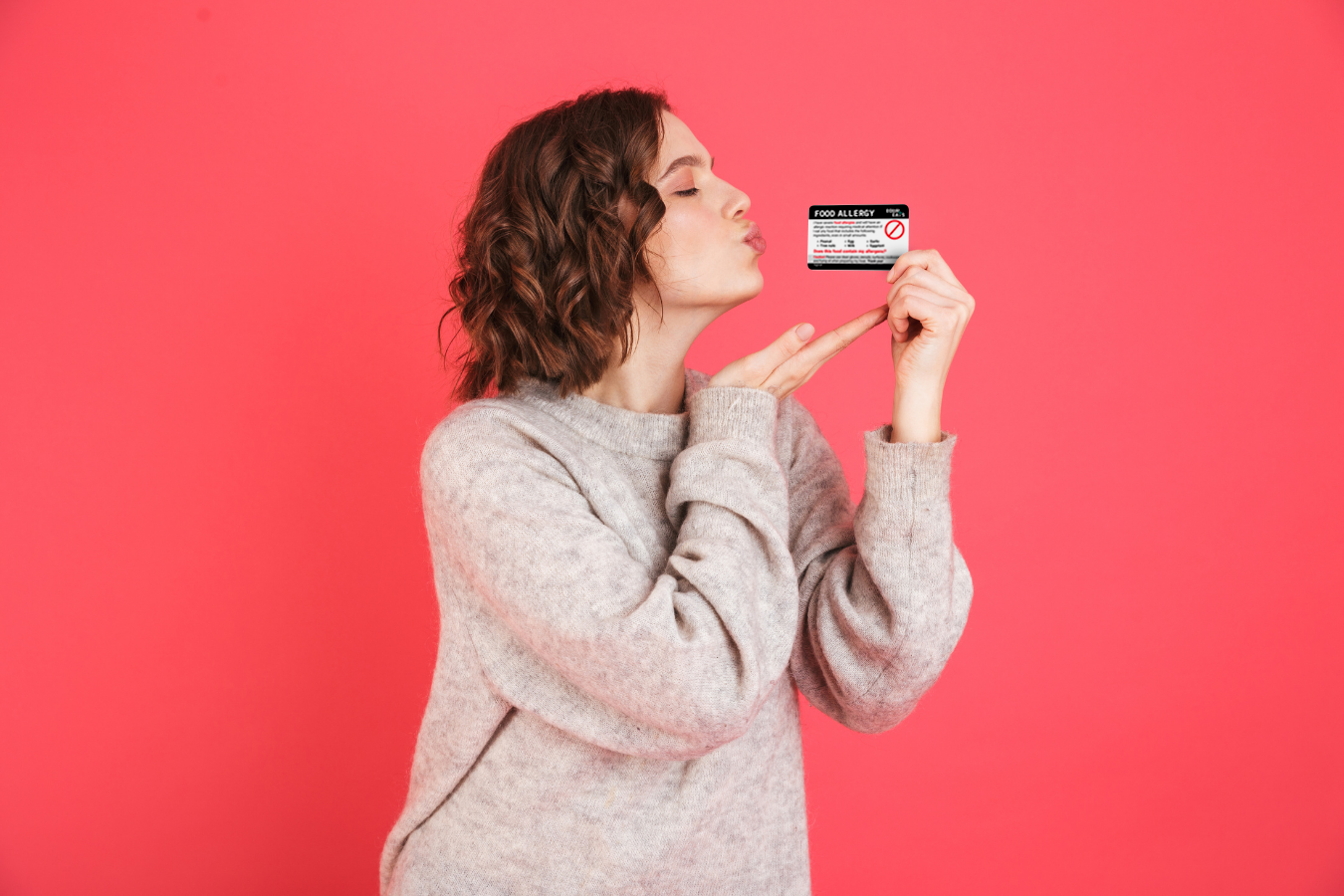 What customers are saying about Equal Eats
⭐⭐⭐⭐⭐
Featured Review
J. Lokes on May 28, 2022
5 out of 5 stars
These cards were a lifesaver in Switzerland. One of the chefs said the equal eats card was the best he's seen. I feel like they kept me safe when I had to work through a language barrier. I highly recommend Equal Eats.
★★★★★

My daughter is doing a semester abroad next school term. She will be traveling throughout Europe as well. These will give her great comfort when dining out! Thank you for this great product!!

Carol

Peanut Allergy Card
★★★★★

These are very thick like a credit card, they are very nice and substantial...and they're great for having about my penicillin allergy(I even got one for my mom! and I'm glad I did!)

Ashley

Pencillin Allergy Card
★★★★★

Kyle was extremely accommodating and generous when there was a printing issue with my original order. This is such a unique product and will definitely make me feel safer on my trip to the Dominican Republic this winter.

Amy

Customized Allergy Card
★★★★★

Perfect card. Thank you. I can put it in the EpiPen case, on booster seat, in book bag, etc.

Lauren

Sesame Allergy Card
★★★★★

Excellent quality, just as pictured! A great product.

Kate

Low FODMAP Diet Card
★★★★★

It's great. I bought it for an upcoming trip to Mexico, and I wasn't pleasantly surprised to discover that it is in English on one side and Spanish on the other so it will stay in my wallet at all times and be used in the U.S. as well.

Kate

Spanish Milk Allergy Card
★★★★★

Great use at restaurants, now we don't have to feel embarrassed trying to explain it's not a fad diet.

Ana

Hebrew Celiac Card
★★★★★

Works great when used in local establishments in Japan.

Chanelle

Shellfish Allergy Card
★★★★★

Such a great idea. They are the size of a credit card. My son is too young to go out by himself, so for now my husband and I have one each in our wallets. But when he's older, he can keep this with him to show where he goes. Great right now during covid as explaining things behind masks is more difficult. We bought some in different languages where we travel often.

Sophie

Greek Celiac Card
⭐⭐⭐⭐⭐
Featured Review
Eleni on June 26, 2022
5 out of 5 stars
The card is perfect! It's my first time traveling overseas with celiac and this makes me so much more comfortable to have. Love that it comes with a card slip as well to keep it protected. Thank you!