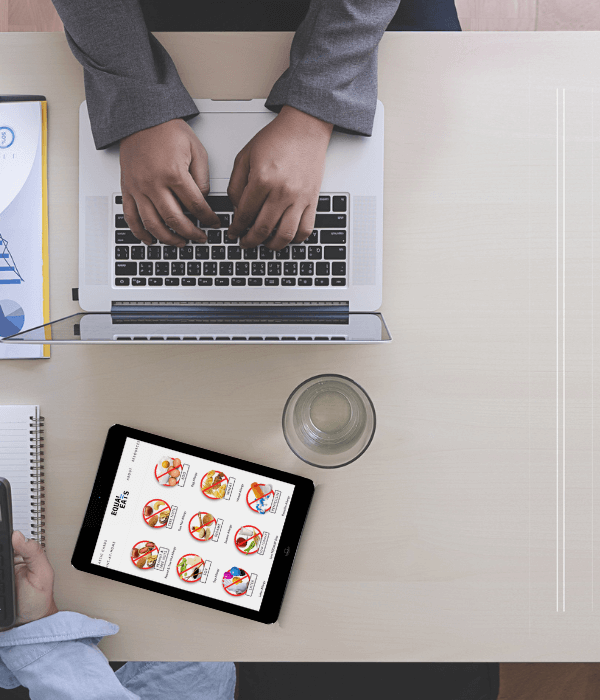 Our Process
At Equal Eats, we take the accuracy of our allergy translation cards very seriously. To guarantee their reliability, each card undergoes a meticulous three-step process: professional translation, expert proofreading, and evaluation by a native speaker. This rigorous approach ensures the utmost precision in conveying critical allergy information.
Step 1
Accuracy
This process started well in advance of our cards ever being publicly available. After a thorough design thinking process where we consulted with nearly 2,000 stakeholders we finalized the content of our cards. At this stage we embarked on a 3-tiered process to ensure the accuracy of all translations. This includes:
Translations performed by professional translators
Proofreading performed by professional proofreaders
Final review performed by native speakers
Step 2:
Professionalism
We use a top-of-the-line plastic card printer to make our dietary cards. Our research told us that restaurant staff take a diner's request most seriously when presented in a professional manner. 
We don't offer laminated cards for this reason and believe that when you take your dietary restrictions seriously, others will too.
Step 3:
Efficacy
Our team creates every single card in-house to ensure it meets our quality control objectives. This includes:
- Design and layout of cards and information
- Ensuring the correct translations (language and allergen) are used
- Overall print quality
Our team "gets" it because we are affected by food allergy, celiac disease and EoE together. 
We use the cards for ourselves and our families, and are happy to provide them to you and your loved ones. We recognize the responsibility and take our process very seriously to ensure we provide superior products that will help you enjoy food with greater peace of mind.
If you have any questions about our process, or would like to assist as a native speaker reviewer for upcoming updates, we'd love to hear from you!
Meet
Our Card Design Team
We lean on experts who share a passion in helping our community.
Gareth Musico, Partner
Gareth is the owner and president of HUMANCONTACT, a cutting-edge communications company based in Toronto. He thrives at bringing the right people together to spur innovation, problem solving, and creativity. As an early partner in Equal Eats, Gareth has provided advisory support at every step in our journey.
Chef Joel Schaefer, Foodservice Advisor
The pioneer behind Disney World's legendary food allergy management system, Joel is a certified chef who has food allergies himself. He is dedicated to making dining safer for those with dietary restrictions.
Shandee Chernow, Foodservice Advisor
As President and CEO of Certistar, Shandee is growing one of the most innovative food allergy safety systems available to the foodservice industry. Her software brings transparency to meal ingredients and filters them based on a customer's exact restrictions. We are excited to work with Shandee on creating more impactful solutions for the foodservice industry as a whole.
Chef Keith Norman, Foodservice Advisor
Chef Keith Norman is the Assistant Executive Chef and Food Safety Manager for the South Point Hotel & Casino. He works with several national food allergy organizations, and has literally written the book on allergy awareness from a chef's perspective. As much as we value his knowledge, Keith's heart and genuine care for accommodating guests with dietary restrictions makes him a cut above.
Husayn Kassam, Operations Advisor
With a background in tech, operations and innovation, Husayn helps navigate the "big picture" for Equal Eats and provides valuable perspective. He is a recent Queen's University MBA grad working within the Vancouver tech space.
Jamie Lee, Registered Dietitian
With an education in Dietetics and Clinical Nutrition Services, Jamie has found her calling as a registered dietitian for Sööma. She also co-founded ReMix Snacks, a company that brings nutrition and environmental sustainability to dark chocolate. We are grateful for Jamie's help in advising on our product messaging to ensure effective communication of dietary needs.
Jennifer Duggan, Product Advisor
Through years of experience in the travel industry, and managing her own multiple food allergies, Jennifer provides a critical eye on our card content to help ensure they are most effective at communicating dietary info around the globe.
Lori Moussapour, Food Allergy Advisor
Lori is a psychotherapist, coach and educator who is committed to helping people with the social and emotional burdens of living with food allergies. With decades of experience serving clients and a first-hand understanding of managing allergies at home, Lori brings to our work a strong awareness of the needs of those living with food allergies and a commitment to messaging that conveys supportive and practical communication around them.
Kortney Kwong Hing
With a pure talent for design, Kortney specializes in finding a balance between displaying critical content, and beautiful design. Her portfolio of allergy-resources includes assets for The Itch Podcast and Zestfull. We're thankful for Kortney's help and insight on the strategic design and layout of our products.
Erin Smith, Celiac Advisor
Also known as the "Gluten-Free Globetrotter", Erin is a dedicated and passionate advocate for the celiac community. Through her blog, consulting service, and educational talks, she is a trusted source of credible and first hand-knowledge of managing celiac disease. Her advice on our celiac cards and beyond, has helped shape our overall product offering.
Cindy Gordon, Vegan & Vegetarian Advisor
Cindy is the well-known author of vegetarianmamma.com, a community where she shares recipes that are vegetarian, gluten-free, and allergy friendly. She actively works with brands in the free-from space and is a trusted community leader for those with multiple dietary restrictions. We're especially appreciative of her help in fine-tuning our offering of products for those with plant-based diets.
Angelica Duenner, Food Allergy Advisor
As chair of Verein ErdNussallergie und Anaphylaxie, Angelica is a premier allergy advocate in Switzerland. Her organization's purpose is making life of patients with this level of severity of food allergies and their families easier. Angelica is a key advisor helping us with international strategy and product localization.
Olga Kagan, Healthcare Advisor
Olga is on the forefront of healthcare innovation as a mentor and judge for various healthcare transformation events. As a registered nurse, researcher, program developer, and community leader, Olga's interests lie in improving patient outcomes, with a keen focus on food allergy. She is a wonderful asset to our team who helps ensure we are solving the right problems, in the right way.